Documentation
Linking directly to a hotspot
Please note that linking directly to a hotspot is only available for hotspots using the Show More Info action. You cannot link directly to hotspots using the Go to URL action as doing so would activate the spot and go to the spot's URL.
Step 1:
Get the link address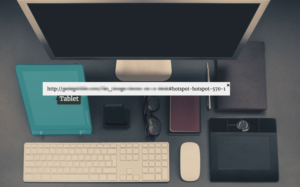 In Draw Attention 1.8.4 (free) or greater or Draw Attention Pro 1.9.4 or greater:
Right-click on an image hotspot while logged in as an administrator. Copy the path that displays.
---
For Draw Attention 1.8.3 (free) or before or Draw Attention Pro 1.9.3 or before:
While viewing your Draw Attention interactive image, right-click on the hotspot and select Copy link address, Copy link, or Copy Link Location from the contextual menu that appears.
Step 2:
Link to the hotspot
This link can now be used to open this page with the selected hotspot already highlighted. As an example, you can visit our demo of the Arrondissements of Paris, which loads the image regularly. Then you can visit this link directly to the First Arrondissement of Paris, which will highlight the First on the map and load the information about the First in the more info area.