Documentation
Showing hotspots in different colors (sold vs available example)
As an example below, we'll use a trade show floor map to show some booths as sold, and some as available.  We'll highlight sold booths in red, and available seats in green.
This approach is helpful for trade shows, concerts, conventions, etc.
Get started by adding your image, drawing hotspots, and setting the general color settings and hotspot color settings.
Step 1:
Set your hotspot options
Always visible, and multiple styles
Step 2:
Create a sold style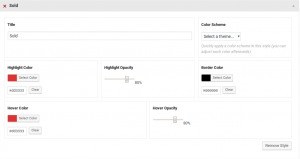 Create a Sold style. Add it's name, and set the settings for highlight color, opacity, border color, hover color and hover opacity.
Optionally, you can select from one of our pre-made styles to set all settings quickly. If you select a pre-made style, you can still edit individual settings to customize them to your liking.
Step 4:
Save
Save your changes
After creating your new highlight styles, be sure to click the blue Save or Update button to save your changes.
Step 5:
Assign styles to hotspots
Give them some color